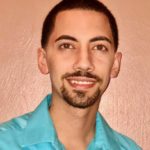 Blessings in the name of Jesus! My name is William Zayas-Ortiz. I am 24 years old and excited to become an ordained minister. I am originally from San Juan, Puerto Rico. Currently, I live in Youngstown, Ohio with my wife of four years, Trinity, and our baby boy, Kailen. I am also a student working on my associate's degree. For the past 3 years, I have been working as an Educational Assistant in an elementary school.
After my encounter with Christ Jesus, I became very active in the church and began to search for a more serious and personal relationship with God. From early on, I felt a calling from God. I began my journey with Christian Leaders Institute in May 2015. Since then, I have been experiencing the high-quality training and credibility that this school provides. Because of my testimony, many, including my pastors, have enrolled in CLI. My ordination through Christian Leaders Alliance is helping me to jumpstart in my calling. The preparation I am receiving is equipping me with the right tools and support I need to succeed. My ordained minister education with CLI has given me the preparation to continue to serve my local community. My hope is to continue being an example to the young community that I am surrounded by.
Through the mentoring and training I'm receiving from CLI, and my pastors; I am able to continue to work in the Kingdom of God with better preparation. The experience thus far has been great. I am blessed to count on the support of my family, my church, my pastors, and the CLI family. I am so grateful to CLI for providing me with high-quality ministry training. I also recognize that receiving a scholarship from Christian Leaders Institute has enabled me to become equipped without any financial debt. I wish to share this opportunity with many people around me. I ask for prayer that God's perfect will be done in our lives and that CLI continues to be free for many believers to come. Truly, we are witnessing a revival in the Body of Christ. May God continue to bless CLI.
https://www.christianleadersalliance.org/wp-content/uploads/2018/02/2018-02-06_5a7a0d0a5393a_IMG_48367.jpg
2171
1794
Henry Reyenga
https://www.christianleadersalliance.org/wp-content/uploads/2018/04/Christian-Leaders-Alliance.11-300x135.png
Henry Reyenga
2018-02-12 21:39:42
2018-02-12 21:39:42
Ordained Minister