Judith Matty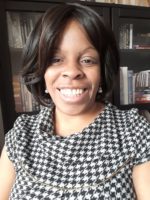 Raising Up Revival Leaders!
Judith has been a student at Christian Leaders Institute since 2019 and since her enrollment has already completed 14 credit hours and earned several awards including the Deacon Ordination.
Read her testimony in her own words
My name is Judith Matty and I was born and raised in the UK.
I was born again in 1991 to a very mixed and diverse non-denominational Church. Given my introduction to God was as a Catholic and delighted to discover through my born again experience, a real God with an extraordinary love for me and mankind. Also, the knowledge of a great inheritance received through my Saviour and Lord Jesus Christ. The Lord has become my personal friend and it is really very exciting. Today God is growing ever more real, relevant and very much active by his Holy Spirit in my life.
The Call:
"My Christian journey has been wonderful, not without deep sorrows but truly great joys!"
My Christian journey has been wonderful, not without deep sorrows but truly great joys! I began with prison ministry and worship music for ministry orientation.. quickly found worship music was my greatest passion. However, I am equally zealous for outreach evangelism preaching and teaching of the Word. I am told there are so many more gifts yet to unfold!
Presently, I am now seeking a full-time ministry engagement, and a couple of doors have opened which is being investigated. My credentials will give me more credence and certainly the confidence I need to move forward in this. I have the advantage of a wonderful Mentor Minister at CLA who has personally gone ahead and sought doors of opportunities for me and helps immensely to steer me in the right direction and hold my course .. Transpired to date is I am co-opted onto the CLA UK Council. I will shortly be joining the Mentor Minister directory.
Commission:
"I am sincerely looking forward to supporting UK students."
I have a renewed and revived excitement about my future prospects in ministry I already see the seeds planted with regards to missions. I am looking forward to what this new season will bring and very grateful to be a part of seeking and raising revival leaders all over the world.
I would ask you for continued prayers for clarity of vision and for Gods grace and provision to go ahead of me and that my ministry calling may impact and wake up nations to the knowledge of our soon coming King!
SHALOM.

Send Message to listing owner
Judith Matty