Ilori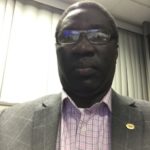 Ministry Dream:
Being an evangelist to share and mentor fellow people in the Word of God.
Ministry Journey:
My name is Godwin Ilori and I live in Barrie, Ontario. I am married with children.
I have the opportunity to go to a bible college where I obtained a certificate in Theology, but after I decided that I would rather do the work of the Lord for which he brought me into North America, I started doing a search on the internet where I can find a part-time bible college or seminary to attend, I then discovered about Christian Leaders Institute (CLI) and was extremely happy that I can be trained while still working my secular job until I can graduate and become a full-time Pastor in God's vineyard. So far, I have taken some courses. Also, I have made a move to enroll for the Bachelor of Divinity as well which I am currently doing the mandated Collegiate Credential Class even though I wanted to take advantage of the previous degree acquired as exemption directly from the Associate of Divinity Degree.
Ministry Journey
I have assisted in planting two (2) churches in the process of running away from God's assignment. Whenever I see someone who indicated that he was being called by God into the ministry, I would joined and assisted in prayers and setting up the church while leaving what is to be done undone. I am involved in evangelism and praying ministry.
Ordination
The most recent ordination as a Deacon Minister during the 2019 convention in Michigan and the latest Christian Ministry Award has now set the tone for the ministry God has called me into. Though it is in my plan by God's grace to complete the Bachelor of Ministry Degree.
Personal Life
I am happily married with children and grandchildren.
Send Message to listing owner
Listing Title: Ilori