Hantumbe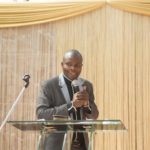 Ministry Dream:
To glorify God through mentoring and encouraging fellow CLI students in Zambia
Ministry Journey:
My name is Nelson Hantumbe. I founded Shekinah Hope Of Glory Ministry on January 4, 2015. I have been the Senior Pastor since that time. I am married to Mutinta Hantumbe and we have two Kids, Joy and Shekinah.
Early Life and Conversion
I am the second born of seven Children; I was born in 1987. I was raised by parents who where committed to the work of God. During my Primary School, I received Jesus Christ as my Lord and personal savior. That is the time I received the call from God to Ministry. I experienced many challenges in connection to my Christian walk and faith. One of it was the temptation to drug abuse. By the special grace of God I was able to surrender my life to Jesus Christ.
Calling to Ministry
The calling to Ministry come when I was in my Primary School. I realized the call of God in my life at Scripture Union.
Ministry Training
After I had graduated from Siavonga High School in 2009, I was trained at Church in some leadership and Ministry course's. In 2013, i enrolled to Christian Leaders Institute, where I graduated with a Diploma of Ministry, Commissioned Pastoral Diploma and many Certificates. This happened because of my loving Wife, Mutinta who have had been helping me so much to study and research more. Now I am in the Degree programme. I was Ordained in 2015.
Ministry Journey
I worked with Scripture Union in Zambia, in this Christian Organization I worked with many denominations, Schools and NGO's. I served as a Chaplain, Counselor and Peer Educator. Ever since that time, I developed the passion of doing the Work of God. Mutinta and I planted our first Church in 2015, in Mtendere East, Lusaka ,Zambia. Because of the credentials I have from CLI. In May 2019 I applied for Internship at Family Legacy Missions Zambia, an Orphanage. As a Volunteer. By the grace of God the interviews went well. I ministered the gospel to the Orphaned and Vulnerable Children.
Ordination
Nelson Hantumbe was ordained in the Shekinah Hope of Glory Ministry in 2015. He is also ordained with the Christian Leaders Alliance.
Personal Life
I married Mutinta Moonga, the love of my life, on September 13, 2013. We have been blessed with two Childrens both girls.
Send Message to listing owner
Listing Title: Hantumbe