Gaines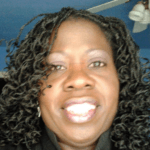 Ministry Dream:
To encourage and mentor fellow Christian Leaders in Oklahoma!
Ministry Journey:
I am Anne-Marie Gaines, a wife, mother of two grown children, and I live in Oklahoma.  I will celebrate 18 years of marriage on the 21st of this month.
I began my Deacon Ministry Ordination last year 2018 but was not able to finish it due to a lot of required traveling, and helping my daughter as she deployed to another country as part of her military life.
However, I am excited to be at the close of my requirements for Deacon Minister.  For a very long time, I have felt the desire to find the corner of a street in my town, stand on a box, and tell everyone who passed by about Jesus.  Needless to say I did not do that but remained in faithful service in the church where God lead my family.  I am an alter worker and an intercessor at my church currently.  However, I have a call to minister to the lost and am preparing to launch out into full-time evangelism ministry.
Studying with Christian Leaders Institute (CLI) has given me more insight to the ministry than I expected.  I am anxious to do further studies but also to actively tell others about Jesus and His love.
My Deacon Minister Credential will open doors for me as a woman because it reveals that I am serious enough about the things of God to study to show myself approved.  CLI has been a "game-changer" for me by being accessible, relational and in-depth.  I love this ministry and have a goal to have a mentor center in my town.
Please pray for me to continue to love, serve, and follow the leading of my Lord and Savior, Jesus Christ, as I answer the call to reach the lost, and encourage those who have become discouraged in their Christian walk.
Anne-Marie T. Gaines
Send Message to listing owner
Listing Title: Gaines