Jay Breland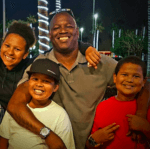 Ministry Dream:
Jay's calling is love and invite the lonely, broken, weak, outcast and forgotten to experience the freedom of God's amazing grace.
Ministry Journey:
Jay is called to serve under his pastor to reach his community. His willing and servant's heart is modeled in his ministry.
Breland was born the youngest of 7 in Los Angles, CA in 1975. His parents were married twice, before getting divorced after his own birth. He was raised by his grandmother in Compton, CA
From my early age, Jay realized that God had his hand on him. His grandmother was a Christ-like example that impacted his life as she demonstrated, love compassion, Grace, and wisdom for me. By the age of 12, He sensed the call to ministry.
All was not perfect, however, in his youth. He was armed robbed by gunpoint and or knifepoint at least 5 times yet God intervened each and every single time.
He also developed a pornography habit, that eventually destroyed his own marriage. At age 36, he was divorced and had hit rock bottom.
Jay wrote, "I remember I felt like a failure because my behavior was an embarrassment to God during my marriage. "After the pity party, God once again spoke and said: 'therefore there is no condemnation for those who are in Christ Jesus'."
Years later and with God's restoring presence, Jay is now in his early 40s and walking with God. He has been tested and now serving under his local pastor.
He is willing to mentor others who are on the path of ministry.
Send Message to listing owner
Listing Title: Jay Breland