Reginald Bissoo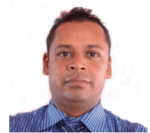 Last Name:
Reginald Bissoo
Ministry Dream:
To bring revival to Guyana! To raise up Christian Leaders
Ministry Journey:
Reginald Bissoo resided in Guyana, South America. He his married to Parbattie Bissoo, and They have three (3), beautiful children, together.
He is a Purchasing Agent and most of my income goes into the ministry he founded. He was called to minister.
He started Christian Leaders Institute in 2016. He has been ordained in the Christian Leaders Alliance. He will mentor CLI students and graduates in his country and will help those seeking ordination in the Christian Leaders Alliance.
Send Message to listing owner
Listing Title: Reginald Bissoo