Rudi Ferreira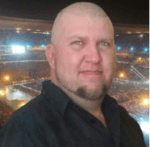 Ministry Dream:
To spread revival near Durban South Africa!
Ministry Journey:
Rudi Ferreira lives in the city of Durban, South Africa – He is the founder of the ministry of Gospel Addicts Global Church [2014]. He is very interested in training future Christian Leaders Institute student at this ministry location.
He began his Christian Leaders Institute training in 2018 and has been ordained in 2018 as well. He is willing to mentor those in his area who are pursuing ministry training and/or ordination in the Christian Leaders Alliance.
Send Message to listing owner
Listing Title: Rudi Ferreira