Taylor Chanetsa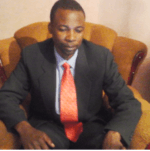 Last Name:
Taylor Chanetsa
Ministry Dream:
To raise up more Christian Leaders for revival!
Ministry Journey:
Taylor Chanetsa became a Christian in 1991 and a serious Christian in 2012 after enrolling with CLI.
Zimbabwe is a country with over 14 million people. There is a mixture of Christianity and traditional African religion, that is a belief in spirit mediums where the dead are said to mediate with the creator [(musikavanhu), i.e., he that created humanity) on behalf of the living.
Taylor joined CLI in 2011 and completed the getting started classes, his getting involved with CLI was more accidental rather than deliberate, yet with hindsight providential, this chance meeting was going to have a profound impact on his Christian walk and character.
Taylor was ordained with the Christian Leaders Alliance in 2015. He is willing to help raise up more revival leaders as they study at Christian Leaders Institute. He is also willing to assist Christian Leaders in the process of ordination with the Christian Leaders Alliance.
Send Message to listing owner
Listing Title: Taylor Chanetsa