Robert Groover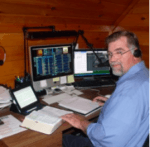 Last Name:
Robert Groover
Ministry Dream:
To reach his region with the message of the gospel and to raise up more revival leaders!
Ministry Journey:
Robert (Robbie) Groover is married to Nancy, his hight school sweetheart since 1986. They have a married daughter and a son. They also have grandchildren.
Robbie attended church his entire life and accepted Christ as my Lord and Savior at a young age. Robbie went through a time when he was not close to God. In recent year, he has not only returned to Christ, but his sensed the call into ministry. He began writing devotionals and has a radio program where he proclaims the gospel.
Robbie started Christian Leaders Institute in 2014. He was ordained with the Christian Leaders Alliance in 2017. He willing to mentor others in their ministry training journey and help them through the process of ordination with the Christian Leaders Alliance.
Send Message to listing owner
Listing Title: Robert Groover