Arletia Mayfield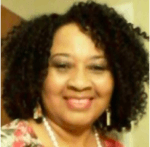 Last Name:
Arletia Mayfield
Ministry Dream:
To raise up more Christian Leaders for Revival
Ministry Journey:
Arletia has walked with the Lord for most of her life. She and her husband are called to ministry.
Arletia Mayfield was introduced to CLI through a local mentoring program in Atlanta, Georgia. After completing courses and receiving the Christian Basics Certificate and the Christian Leaders Bible Certificate, She decided to take the Deacon Minister Ordination course to establish a strong biblical foundation as a minister to better serve her community and the ministries we serve. Upon completion of this course, she plans to continue studies at CLI by taking the Chaplain Ministry training.
For over ten years, Her husband and she have promoted the Gospel of Jesus Christ worldwide through our Global Christian Internet Television and Radio Network – trueGOD.tv. Recently, the Lord called her to the mission field as full-time Mobile Media Missionaries.
Arletia began Christian Leaders Institute in 2014 and became ordained in 2018. She is willing to mentor others in their ministry study or ordination process.
Send Message to listing owner
Listing Title: Arletia Mayfield