Don Stevens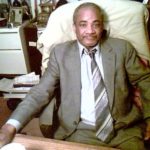 Ministry Dream:
To minister, mentor and serve as a Christian Leader!
Ministry Journey:
Don Stevens is a retired Disabled military veteran with 34 years of honorable service from Frederica, Delaware. Born on October 18, 1957, to the late Reverend Paris Elliot Stevens Jr and Harriet L Deputy who founded the Plain Truth Baptist Church inc. in the year of 1988. That is when he first asked the Lord to be his personal Savior. He met his wife Sherron C Davis three years later at that church and was united in holy matrimony under his father's ordination on July 21, 1991.
They have two sons Ronelle (rocky) and Wayne (Anthony) and five grandchildren. My parents were great mentors to him and his siblings until their mother passed in (2014) then their farther in (2015).
The military was very beneficial in helping Don reach his education level just shy of a bachelor degree. Although he carries the title deacon at the Plain Truth church he is applied for the Christian Leaders Institute scholarship so that he can take the free deacon training to obtain an official certification. so that he can minister to all souls; believers as well as non-believers. Even though he have been diagnosed with a Hyper Mixed Emotional Stress Disorder (HMESD) because of the three mobilizations he served since 9/11. He believe God wants to use him as an example that he can get his message understood by anyone regardless of his or her handy cap. after taking the getting started class at Christian Leaders Institute it has given him a richer intimate understanding of a walk with God.
He is ordained as a Deacon Minister with CLI!
Send Message to listing owner
Listing Title: Don Stevens