Lelan Gimnick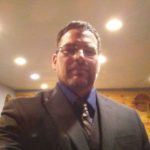 Ministry Dream:
To lead confidently and share the Gospel of our Lord Jesus Christ.
Ministry Journey:
Lelan Gimick is ordainned in many roles of ordination with CLA! He is ordained as a Deacon, Officiant, Associate Minister, Associate Chaplain, House Church Minister.
Read his testimony below:
"Greetings, brothers and sisters in Christ! May the peace of our Lord and His never-ending mercy find you richly blessed in grace and courage to proclaim the name and gospel of Christ Jesus, our risen Savior! My name is Lelan Gimnick, and I have been a continuous student of CLI for over two years. I find it a continual blessing that after all this time, I have still not exhausted the breadth of the curriculum available to those obeying God's call on their lives to study to show themselves approved for ministry. As I work my way through the various programs of study, I find myself challenged, more often than not, by the ascending-scale professional and spiritual development model of the curriculum presented here at CLI, to stay in prayer and stay in the word of God and count on the Lord to provide the diligence and stamina necessary to take on the full course load.
I am currently serving the Lord in the central region of Wisconsin, USA, as a backing youth leader at my local church.Through real world clinical experience in both addiction counseling and behavioral health, a background in emergency response and crisis intervention, a firm foundational doctrine from God's word, and the education I am receiving here, it is my simple prayer to continue to avail myself to any and every field of study that will allow me to be sent where God will, and all for His glory."
Send Message to listing owner
Listing Title: Lelan Gimnick