John Grove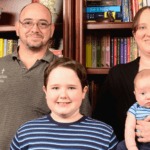 Ministry Dream:
To be used by God to make disciples who make disciples all for the Gospel of God!
Ministry Journey:
John Grove lives in Florida working in ministry. He is ordained as a Deacon Minister in 2018 with the CLA.
Read John Grove's testimony below:
"I was born and raised in Baltic, Ohio, where my mom and Grandmother were the spiritual influences in my life. My mom took my siblings and I to church and by the time I was in the fourth grade I had seen two churches go through horrible splits. This caused me to become angry and confused sending me to find answers on my own. I went down the wrong path and I eventually got heavily involved in the occult.
After high school I joined the Navy, I served four years as a gas turbine mechanical technician. After my honorable discharge, I returned to Baltic and became a reiki master. My beliefs at that time would line up with what we now identify as "New Age".
I was introduced to a new pastor in the area who had come to Baltic from Alaska to fill the call at a local church. Larry Smithwick is an expository preacher, which was new to me at the time. He managed to lovingly expose the errors in my thinking by showing me scripture, not just telling me his opinions. Over the next five years Larry, and his wife Shari, chose to invest into the lives of me and my wife, Tanya. I am certain that the discipleship was the missing link for me as a child which allowed me to drift so far from the Truth of GOD.
I now have a burning desire to disciple those who want to know GOD for themselves. I am willing to pour my life into those that want to go that extra mile, just the same as Larry did for me.
Because God used Larry to disciple me I am now the congregational pastor at Living Hope Community Church in Ocala, FL. We have the same passion to make disciples who make disciples and this is why we are partnering with Christian Leaders Alliance in becoming a mentor center.
Send Message to listing owner
Listing Title: John Grove