Rodney & Susan Colson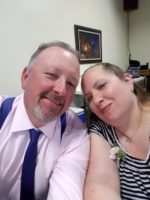 Last Name:
Rodney & Susan Colson
Ministry Dream:
To come together as one to raise up revival leaders!
Ministry Journey:
Read Our Testimony:
Our names are Rodney and Susan Colson. We have taken two totally different paths to get to where we are right now. Susan was raised in a Christian home, but she has since realized that her family had been just going through the motions of Christianity. Susan's life as an adult took a rough path. After a couple failed marriages, Susan became a single parent with two boys. I, on the other hand, took a different path. I was raised by my mother who was a Christian. I became a believer when I was 12 but never really became disciplined in faith. I turned to satan(I refuse to capitalize this cowards name) and ultimately turned to myself as my god. I became addicted to drugs, alcohol, pornography among many other things, so much as to land myself in prison for 5 years. This is where I rededicated my life to Christ. I have never looked back since. Upon my release, I was reconnected with Susan. On October 26, 2015, this beautiful woman became my wife. On January 1, 2016, after several months of prayer, God placed on our hearts to start our own ministry. This was the kick off of our ministry, A NEW YOU OUTREACH. Our ministry has been involved with assisting families of inmates as well as marriage ministry. Susan and I were ordained January 22, 2017. We have been very active with our ministry, from hosting bible studies to providing food to struggling families. God has opened so many doors for us over the past few years. We are going on our third year as CLI students. We are working towards our Bachelor of Divine Ministry. Susan feels that God has called her to become a Hospice Chaplain. She currently works with the elderly and is full of compassion and love for people. Susan sees the Jesus in all people. We have been appointed as the marriage ministry leaders at our current church. We are both active with Family Life and the Angel Tree Project. We set out to show love to those who feel unlovable and to teach the Good News to those who feel unteachable. We look to find Jesus in all people. We are still in God fire, being refined!!! Our love for God and His love and mercy burns deep inside of the both of us. We are here to do the work of God. We know that God wants no one to perish, so our desire is to go forth and increase the family of believers. We are here to serve and do Gods will.
Send Message to listing owner
Listing Title: Rodney & Susan Colson