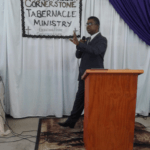 Ministry Dream
To Raise up Revival Leaders!
Ministry Journey
Brian has completed 74 credits and has a Diploma in Ministry.
Brian's Testimony:
I am a South African citizen living in a beautiful world-renowned city of "Durban" in South Africa. South Africa boasts of a culturally rich and diverse ethical atmosphere, and is better known as the "Rainbow Nation". Peoples of every nation and tongue connect here on our home soil. Religious practices of every kindred are respected and encouraged to flourish within their homes and communities. Christianity like all other religious movements is respected and tolerated equally well here. I hail from a community steeped in idol worship. My small village "Illovo" which is situated in the lower South Coast of Durban has three idol filled temples and two small churches. Everyone is happy and peaceful here. There is rarely or hardly any evangelism done here. On the bigger scale, Christianity is well rooted in South Africa. Both foreign and local ministries (Multi – Denominations) flourish here on South African soil.
Christian Leaders Institute has helped pave the way for me to receive a sound world-class biblical education. The presentation of the study and course material by professional teachers is highly commendable. I have experienced many positive life-changing moments as I pursued my studies here at CLI. Both the study material and the CLI faculty have challenged me in my thinking and in the way I do and perceive things. My mind has been greatly renewed; my understanding of scripture has taken on a new scriptural and biblical dimension. I would strongly recommend any sincere individual, who is serious about God and the Holy Scriptures, to come and study here at Christian Leaders Institute. I am greatly indebted to CLI. Christian Leaders Institute has made it possible for me to be successfully ordained as a pastor.
Send Message to listing owner