David K. Lange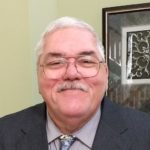 Ministry Dream
David has a desire to assist in bring a revival to the church where he is assistant pastor and to the local community. He enjoys the role of teacher and mentor, helping new persons seeking their role in ministry, providing direction and support.
Ministry Journey
David K. Lange became a Christian later in life towards the end of his 24-year career as a police officer in Southern California. David had gone through a divorce, was on medical leave from the police department due to an injury and had almost given up on life. Late one night while watching TV he began watching the 700 Club and one of the pastors talking seemed to be talking directly to him and it was then he decided to turn everything over to the Lord and accepted Christ as his Lord and Savior.
David has been involved with many Christian churches during the last twenty plus years, serving where the Lord had placed him, as an usher, trustee and deacon. Due to his background in law enforcement he always felt lead to be a protector of the flock and established security/safety ministries at churches he had attended. David also served in the Kairos Prison Ministry and as a Lay Pastor of a church plant in Mesquite Nevada.
During his ministry journey David had always felt the need to learn more and become more involved in ministry. In 2015 he began his ministry education at Christian Leaders Institute and during the pasted 3 years he has completed many courses and was ordained by Christian Leaders Alliance in 2017 as a Commissioned Minister.
During David's career in law enforcement he enjoyed training and mentoring young police officers in their career journey. As with laws enforcement David sees a true need for strong ministry mentors, giving that guidance and support needed while persons studying for or who are already in the ministry seek their direction in Gods call.
Send Message to listing owner