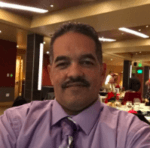 Ministry Dream
George has a passion to bring the good news of salvation, and proclaiming the day of the Lord that is to come. He is starting an internet program to proclaim Christ to even more people
Ministry Journey
George came to know the Lord at the age of 8 with his mother during a Nicky Cruz rally in Ponce, PR back in 1974. Nicky and his father had been friends in their youth. After listening to his testimony, George felt the Lord touching his heart and he asked him to touch my mother's heart so they could both be saved.
In the course of time, God has brought George back from a severe illness that had him basically on a hospital death bed due to complications of diabetes. He wasn't following Him. He hadn't answer his calling. He was running from everything he knew was right. His mother was praying for George. She had the church praying for him too. George got on his knees and prayed too. He asked the Lord to forgive my sins, to restore him. After that the doctor found how to treat him.
George was launched to a new living relationship and calling.George has completed more of the courses at Christian Leaders Institute. He is considering more studies and he is on fire to reach the lost. He is also willing to mentor others on a ministry path.
Send Message to listing owner