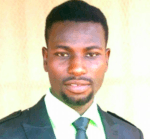 Ministry Dream
To proclaim the gospel to those in Nigeria that need Christ
Ministry Journey
Ibrahim Daniel Amshi was born into a Muslim home. There were very few Christians in his village. He took interest in Christianity at a young age. He would often attend Sunday School.
When he left his village for the university, Ibrahim continued to grow as a Christian. He has studied the Bible for many years at various places online.
Ibrahim started Christian Leaders Institute in 2016. He has completed over 65 credits of ministry training. He has been ordained as a Commissioned Minister. He is willing to mentor those in his area and help them get ordained with the Christian Leaders Alliance.
Send Message to listing owner