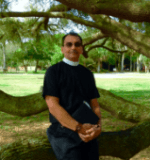 Ministry Dream
His ministry dream is to serve others while he continues to grow in the knowledge and grace of Christ Jesus.
Ministry Journey
Dr. Robert Fieldhouse is a Pastor born in Miami, Florida to an upper-middle-class family. He was the last born of three. His father did not practice any faith and his mother had a living relationship with God.
Robert came of age in the 1960s and served in the United States Marine Corps. His relationship with God was off and on again. He received an injury and was released from the Marines. For the next many years that followed Robert struggled to overcome pain and hurt. He was searching for God. God found him in his great search. Read the full story.
Robert found Christian Leaders Institute in 2014. Though he struggles with physical disabilities, he has completed over 50 credit hours of training and he has been ordained as a Commission minister.
He has started a church and he serves in various ways in his community. He welcomes new CLI students to contact him for encouragement, mentorship or ordination assistance.
Send Message to listing owner