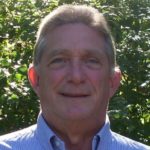 Ministry Dream
To raise up revival leaders!
Ministry Journey
Robert has finished 10 credit hours and received a deacon ministry award.
Robert's Testimony: I am an older ordained Christian leader. My main ministry is focused on demonstrating God's love to the people, primarily children, of the island nation of Haiti. As founder and Principal of Love the Children, Inc. (a 501(C)(3) Florida non-profit corporation)  my work is helping rural Haitians provide their children with life's basic needs such as water, food, shelter and the hope that education can bring. While much of my time and effort is spent on satisfying physical needs, I am very deliberate in demonstrating that this work is the manifestation of the love of Jesus. We have completed an education building, named The Taryn Lynne Budd Education Resource Center,  that is connected to our school in the remote village of Larevwa, on the south shore of Haiti. It has a solar power system and a computer lab. In addition to being available to all of the children in the area, we are using it to provide educational opportunities for adults as well as the children. We are praying that God will show us an opportunity provide Pastors and aspiring Pastors an opportunity for more formal and extensive training.
http://www.lovethechildren.org
Send Message to listing owner