Rushworthy Ngondonga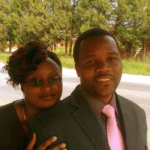 Ministry Dream
To bring revival to my country!
Ministry Journey
Rushworthy Ngondonga was born on the 3rd of August 1984. He is married to Vivian Ngondona and the two of them are blessed with two sons Joshua[5] and Joel [six months] Rushworthy gave his life to Christ in 1998  in the Methodist church. Since then Rushworthy has become the founder and senior pastor of Acts Revival Ministries a ministry which we launched in 2012.
Rushworthy started Christian Leaders Insitute in 2015. Since then he has completed over 67 credit hours at CLI. Rushworthy has also received a diploma of Ministry.
Rushworthy is willing to assist students who are studying at CLI with their ministry journey.
Send Message to listing owner