Stephanie Davis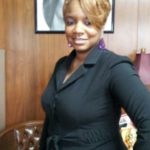 Ministry Dream
To raise up revival leaders!
Ministry Journey
Stephanie Davis resides in the Peach State known as Georgia. Stephanie gives honor to God who is the head of her life.
Stephanie's first recollection of joining the church was at the age of 12. She would spend days on end in fellowship. Stephanie also sang in the choir and became a reporter for her church for several years. Stephanie also helps keep her church grounds clean and in order.
Ministry has been a part of Stephanie's life. If I see something that needs to be done, she does it.  Stephanie came from a lineage of Pastors, Evangelists, Ministers. She knew in her pre-adult and so-called grown (18 yrs. old) days, being different and she couldn't get away with things that others could so easily. Stephanie felt conviction immediately and it appeared that no one else was being convicted but me. People have told her, "You don't look right in the club". Total strangers. However, she learned that Grace and Mercy covered me even while she was in Sin. Stephanie's anointing followed her where ever she went. Had anyone said to Stephanie that I would be in Ministry, she would have brushed them off or laughed at them back in the day. Stephanie became the very person she swore never to be and that's a Minister-in-training.
Stephanie came across CLI at an unusual hour and just out of the blue. She was online searching for an Attorney and it just popped up out of nowhere. Normally Stephanie would ignore ads or other invites. However, she could not ignore it. The holy spirit wouldn't allow her to do so. Since then Stephanie has completed 24 credit hours just in the year of 2018! She has an amazing GPA and is willing to assist other students in their ministry walk.
Send Message to listing owner