Sugar B. Wright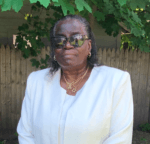 Ministry Dream
Help people launch into a living relationshp with Jesus Christ. Sugar B. Has a internet radio program where she seeks to help young people.
Ministry Journey
Sugar B. was born October, 1958. Her parents being of different denominations (Catholic and Baptist), raised her brother and her in the Catholic Faith. When she turned 16 years old she went from the Catholic Faith to become a Baptist. She enjoyed the singing in baptist church and the preacher giving the sermon. As time went she was baptized. She started feeling the need to do more with her life and to find out more about God and His Son Jesus Christ.
She became a New York, NY police officer. She lost her connect to church until 2009 when the Lord used her son and some God-inspired circumstance to prompt her. After being baptized in December, the calling for ministry developed in Sugar B.
She began studying at Christian Leaders Institute in 2017 and has excelled in her studies. He continues to do an internet radio show called Sunday Fellowship Praise. People can assess the "Wright Ways Radio" app onto their devices phone, IPad, tablets and computer....
She is willing to mentor or assist others in the New York, NY area in pursuing their ministry dream which may or may not include ordination.
Send Message to listing owner