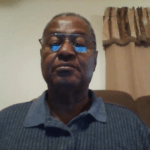 Ministry Dream
To help those that aren't saved as well as those that have fallen away. To mentor and serve as a revival leader!
Ministry Journey
Aaron Thomas lives in Mountain Home, Idaho. Married, four grown children, four grand children. Foster parent for 12 years.
He retired from the military in 1990, after 24 years of service (Air Force). Went back to school got an Associate Degree in Electronic Engineering and worked in that field for several years before the constant travel took a toll on both himself and his family. Left that field went into corrections, first adult than later juvenile (retired from corrections and work). He loved working with the juveniles even though they were more challenging to handle than the adults. One of the things he noticed repeatably with the juveniles is that the young parents did not have a clue or realize that they lost their child at a young age. And that the main reason, almost 85 % of the time, the juvenile was in a state correctional facility and not a city detention facility, was because their parents did not have a solid foundation on raising them. So that is his Ministry calling, reaching the lost generation (parents).
Aaron came from a catholic background. He left Catholicism probably about 15 years ago. It no longer felt right. Joined a non-denominational church and felt good about it. About 5 years ago, a husband and wife team of pastors at that church started a new ministry and he joined in with them. Little did I realize who much of a fit it was. Immediately upon joining them (No Limits Christian Ministry), the pastor informed him that God told him that Aaron was to be their head Deacon. Two years later that call to preach started tugging on his heart. He discussed this with the pastor and he said God had told him the same thing, that I needed to start preparing myself to do that. Aaron told the pastor that he is 60 something years old and that starting a church/ministry at my age did not make any sense. He informed Aaron  that God chooses people for his work and age does not matter.
He researched several schools and when he came across Christian Leadership Institute it just felt right. So he enrolled in the basic course and now here he is. Ready to press on toward that goal the GOD wants for me. Because of the training I have received from CLI, I will be better equipped to do this.
He is an Ordained Deacon Minister with Christian Leaders Institute.
Send Message to listing owner