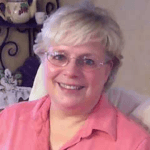 Ministry Journey
Her Dad was a pastor until his health began to fade in his eighties and went to be with God. She has been a Christian from a very young age. She learned a lot as a child under my parents teachings. She retired now from working in several different areas including caring for the elderly, grocery store clerk, cleaning and ironing for families, babysitting and lastly 15 years working as a Medicare biller for Home Health Care.
She has worked with children ministries at church. She has taught Adults in Sunday School. She has even done some preaching on occasion. At present she has a Local Ministers License through her Church which requires her to seek training. Her desire is to learn more of Gods Word and equip herself to better help young woman to grow deeper in their relationships with God. She has been working closely with 2 young woman for about 3 years and have seen slow but awesome results in their walk with God.
Sharon Cope is ordained with the CLI as a Officiant Minister! She says "The thought of bringing Christian couples together in marriage, seeing the happiness and love and joy in their faces as they commit to each other in the bonds of Holy Matrimony, Uniting together with Jesus Christ as the center of their marriage is an indescribable joy."
Send Message to listing owner