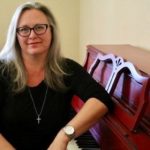 Ministry Dream
To raise up revival leaders!
Ministry Journey
Deniese Brewer has completed 128 credit hours as a commissioned pastor and has a diploma of continuing ministry
 Testimony:
My name is Deniese Brewer. I'm a wife of almost ten years to a wonderful husband that I've known since high school, a mom of three boys ages 7, 20 and 24, and three step-children—two boys and a girl—ages 10, 23 and 26. I was born in 1974 in Phoenix, Arizona, and resided most of my life between Colorado where my dad lived and my home state where my mom lives, prior to accepting salvation in Jesus Christ in 2014.
I currently live in Casa Grande, Arizona, which is a relatively small southern town near the border of Mexico ironically called "Big House" in Spanish having around 55,000 residents (mostly snowbirds and lifetime locals). I began attending Christian Leaders Institute (CLI) in September 2014 following my conversion in Christ, as I was searching for ways to engage in a seminary-based study of the Word of God and since, by this time, I had never taken the opportunity to read the Bible in full.
Thank you, Father God, for paving a way to success that would have otherwise not been available. CLI is most definitely part of His greater plan to prosper the Body of Christ. "For I know the plans I have for you," declares the LORD, "plans to prosper you and not to harm you, plans to give you hope and a future." 
Send Message to listing owner