Herb Marr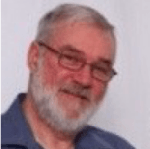 Ministry Dream
Herb is passionate about evangelism and raising up new Christian leaders.
Ministry Journey
Herb Marr lives in New Maryland, New Brunswick, Canada. He is over 60 years old and has retired from a career in the Canadian Armed Forces where he served in the Army and then the Air Force.
Herb married Lynn in 1989 and have raised three sons. Lynn is an administrative assistant working for the New Brunswick Government.
Herb was trained as an Evangelist in a three-year course graduating in 2002 and have worked as a Chaplain and minister in his community.
Herb's faith journey started as a child in Sunday School, but his faith became real to him after I fell away and was caught up in the disease of alcoholism. During my early days of sobriety, He was invited to attend Chapel by two fellow soldiers and soon after turned his life over to Christ.
Herb began Christian Leaders Institute in 2017. He has completed his deacon minister ordination, and he is willing to mentor others and guide them through the process of ordination at Christian Leaders Alliance.
Send Message to listing owner