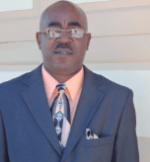 Ministry Dream
To serve Immigrants of Haiti to help them connect to the Lord and their communities as they live in Florida.
Ministry Journey
Maxo Jean-Jacques was born in Haiti in 1969. He was raised mostly by his mother because his father left Haiti in 1980 and came to United States. Maxo came to the USA as well in the 1980s. Maxo encountered Jesus as my Lord and Savior at 11 years old in 1983. Maxo met and married Elmitha Pierre in 1999 and have two beautiful children, one girl and one boy.
Maxo graduated from Florida Metropolitan University (FMU) in 2007 with a BS in Accounting, and with a Masters of Business Administration (MBA) and a Masters of Accounting in 2010.
More than 80% of Haitians people do not known the real God, they believe in Voodoo. Christian Leaders Institute has been a big help in bringing Maxo ministry training and becomeing ordained as Commission Minister.  Maxo Jean-Jacques serve in ministry to the Haitian people. Maxo is called to raise up leaders to reach the Haitian people. He is called teach and train other Haitians with the Bible knowledge. He is also help to organize other Haitian Christian Leaderes.
Maxo Jean-Jacques is willing to mentor Haitian or non-Haitian leaders in their studies at Christian Leaders Institute. He will also help in the ordaining more more leaders in the South Florida area.
Send Message to listing owner