Madelein Janse Van Vuuren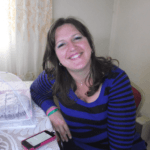 Ministry Dream
To raise up revival leaders!
Ministry Journey
Madelein Janse Van Vuuren is from South Africa, she is a mother of two and now works in fulltime ministry.
One day Madelein found herself in church after years of not attending. As she walked into a church Madelein began to weep. She did not understand what was happening to her. She sat at the back of the church so that she would not be noticed. The pastor then spoke about a word that he had for someone. He then called Madelein to the front. This was her first time in the church and didn't know anyone there. She was shocked that God knew who she was. The same day Madeline gave her life to Christ.
Madelein has a call to plant churches, help solve issues in ministry, community development and a prophetic calling. Madeline's greatest desire is to help other believers to their calling.
Send Message to listing owner