Shane Bryant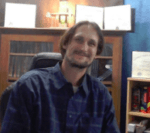 Ministry Dream
Shane seeks to raise up revival leaders to complete their preparation for ministry in the region where he lives. He is passionate about mentoring future Christian Leaders.
Ministry Journey
Shane Bryant is happily married to the love of his life; Jillian Bryant - his support and ministering partner. He has two wonderful sons - Judah and Christian - who are very supportive of the ministry. Shane lives in a smallish town called Ladysmith, in the Midlands of the province of Kwa-Zulu Natal, South Africa.
Shane joined Christian Leaders Institute in 2015 and has enjoyed the training. He completed his Bachelors of Divinity degree and pastors Christian Leaders Church, a church that he planted in Ladysmith. Shane is interested in creating a local center of mentoring and helping others to plant churches. He is willing and ready for Christian Leaders Institute students to be encouraged in their studies. Shane will also assist in ordination matters.
Send Message to listing owner