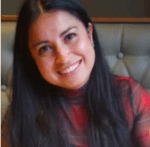 Ministry Dream
To help women connect to Christ and to raise up more woman warriors for Christ
Ministry Journey
Catherine Camelo is happily married to Robert. They have two daughters. They moved from Columbia to Mexico in 2012 to homeschool their daughter.
Catherine and Robert continue to grow in a living relationship with Christ. Catherine senses the calling into ministry.
She stated Christian Leaders Institute in 2017 and was ordained in 2018. Catherine has the calling to lead women to grow in Christ.
Catherine is willing to mentor Spanish or English speaking students in their ministry training or ordination into the Christian Leaders Alliance.