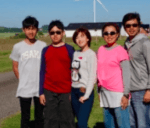 Ministry Dream
Dan Lim is passionate about reaching others for Christ. Dan seeks to communicate the gospel to those in Singapore.
Ministry Journey
Dan Lim heard about Jesus and His love through Youth for Christ in school. He came to know the Lord in 1986. Since then, He is committed to serve the Lord, as He considers it a great privilege. His walk with God and the burden for those who have yet to know our Lord Jesus Christ have kept him going all these years.
He has never received any certified training over the years until he entered Christian Leaders Institute in 2015. Since that time, he has accomplished over 40 credit hours of advanced ministry training.
Dan and his wife are involved in street ministries and prison ministries. They are willing to mentor Christian Leaders Institute graduates to take their next steps in ministry. They will help those called into ministry in their journey into ordination.