South Africa Ministry Training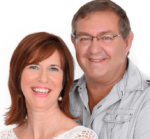 Address:
1354 Collins Avenue
Waverley Pretoria, Gauteng 0186
0186
Ministry Dream:
Raise up revival leaders through mentoring and launching them into ministry. To reach SA with the gospel.
Ministry Journey:
Type of Minister: Thinus: Commissioned Minister
Maretha: Women's Minister
Ministry Dream: Raise up revival leaders through mentoring and launching them into ministry. To reach SA and Africa with the gospel.
Ministry Journey:
Thinus and Maretha (Retha) Pretorius are married and are partners in Ministry, in Pretoria, South Africa.
In 1974, at the age of 16, Thinus gave his heart to Christ, was called by God to full-time ministry, but due to various factors, he never went to Seminary.
Thinus and Retha got married in 1981 and were involved in youth ministry and later in various "positions" in church life.
In 2000, Thinus had a personal encounter with the Holy Spirit that changed his life and took him out of his comfort zone. The sanctifying work of the Holy Spirit forced him to ask the big questions and quickened his calling and passion for ministry.
The encounter began a process of purifying and confirmation, both in Thinus and Retha. Thinus began ministering to others. He was soon joined by Retha, who accepted her calling after a period of responding, " No,… ministry is not for me…!"
They ministered for years with some informal training. (Retha attended an informal Bible School for 4 years). Their formal training through Christian Leaders Institute began for Thinus in 2014 and for Retha in 2015. They have many advanced diplomas through Christian Leaders Institute. Thinus is ordained as a commissioned minister and Retha as a women's minister. They are senior pastors of Christian Leaders Community Church in Pretoria.
They encourage other CLI students by hosting regular meetings for mentoring purposes as well as assisting them in ministry needs such as formally registering their ministries and facilitating practical ministry training sessions. They also assist new students enrolling at CLI and facilitate Ordination services for CLI students.