Ministry Dream
To raise up more revival leaders in Indiana!
Ministry Journey
Jay McCaughtry is married to his wife Gayle and lives in Marion Indiana. Two of his children are grown and live in Pennsylvania. He has one step son and daughter.
He attending church occiasionally growing up. He enjoyed hearing about God from his grandparents. His parents had an abusive home that he left when he could. He sought to know the true God. He still prayed, He still read the Bible, He still loved God but He no longer wanted to be around God's people. Life came and many negative experiences came. God was faithful. Eventually God was calling him to ministry.
Jay started Christian Leaders Institute in 2017. He was ordained in 2018. He is willig to mentor Christain Leaders Institute students. He will also help CLI student to become ordained in the Christian Leaders Alliance.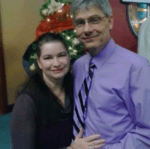 Ministry Dream
To bring revival to her community. To launch more Christian Leaders.
Ministry Journey
Rita Kay McMillin is married and lives in Brazil Indiana. One night as she was tucking her daughter into bed, her daughters asked me if she was saved. When her children were small, she got them involved in going to church every Sunday. So that night her then eight-year-old daughter witnessed her, and it changed her life forever. She started going to church and she got saved.
In October 2013, several events and spiritual urging brought her a call into ministry. She began Christian Leaders Institute in 2014 and she was ordained in 2018. She is willing to encourage Christian Leaders Institute students and graduates who need a mentor for ministry training or ordination.